Services
Library Services
The library has access to the Internet, available for anyone. Children under 16 years of age must have a parent's signature on a consent form before using the internet. There is no charge for using the internet, however there is a charge of .25 per printed page. Students are allowed up to three copies free of charge. The library has multimedia and games for children of all ages as well as word processing for the public.
Wireless internet is now available.
Jeanne Jones Little Conference Room
On December 3, 2002, the Humboldt Public Library completed renovations of the library's conference room. The room is dedicated to the memory of Jeanne Jones Little, who was once a dedicated volunteer of the library, and carries her name. The conference room is available for use by non-profit organizations and is equipped with podium, large meeting table, comfortable chairs, dry erase board and projector screen. There is no charge for the use of the room, however, prior reservations must be made.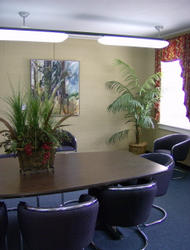 Virginia C. Nicholson Children's Room
On July 22, 1996, the Humboldt Public Library opened the Virginia C. Nicholson Children's Room for the public. The room is dedicated to the memory of Virginia C. Nicholson, a long time first grade teacher in the Humboldt School System, and carries her name. The room is brightly decorated with a circus atmosphere. You will find about 8,500 vilumes divided into Juvenile Fiction (JF) Juvenile Nonfiction (JNF), and Easy (E).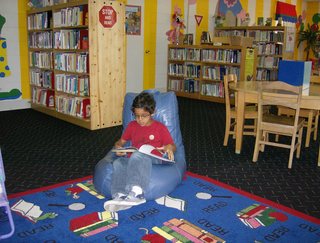 Periodicals
Many organizations in the community make it possible for the library to subscribe to over 70 periodicals. Magazines, except current month issues in covers, are available for check out for a period of two weeks.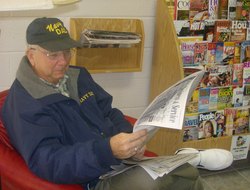 Video Cassettes & DVD's
The library has approximately 1,400 videos and approximately196 DVD's for circulation. These can be checked out for one week and renewed, if needed, by phone. The overdue charge for videos is $1.00 per tape, per day.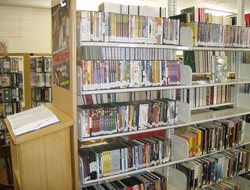 Copying Services
A copying machine available for public use. There is a .25 charge for each copy on our paper, or .10 on your own paper. Three copies free of charge are given to students and from books that do not circulate.
Edgar Holmes Young Adult Reading Area
A comfortable reading area with jr. high
through college material, reading list
material, and lots of great fiction!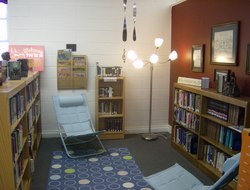 "Books-On-Wheels"
As a service to patrons unable to travel, the library provides the "Books-On-Wheels" program. Ms. Felita Martin can be contacted until Wednesday 4 p.m. and will respond by delivering books to patrons homes on Thursday of each week. If you know of someone who needs this service, please call 784-2383.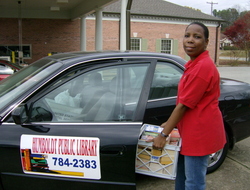 Public Story Hour
Mommy & Me Storytime
Each and every Wednesday from 10:30 - 11:30 AM. The stories, fingerplays, songs and activities are designed to introduce young children to the wonderful world of literature. Bring your little ones and join the fun. The actual story time runs approximately 30 minutes, then we have art time and a light snack. This is a great way to meet other mom's in our community. Please join us!!